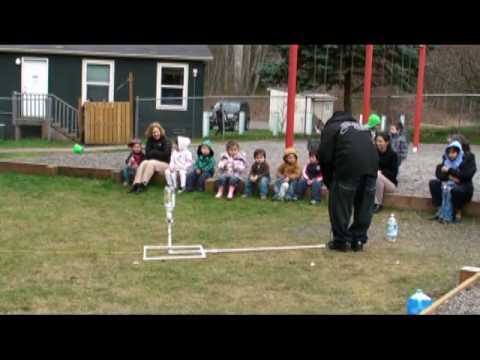 (temprary video of Head Start Launch)
Another week gone by and another week filled with adventure! First off was the very complimentary picture 🙂 and article about the Space Center in this month's  Squol Quol. Then the most fun of all! We had a rocket launch with Teacher Sue's Lummi Head Start Class on Thursday. 
We provided Sue's class with 17 soda bottles the previous Monday with a launch planned for Thursday, March 11. Sue's students could decorate their rockets, or not. On Thursday, Kyle, Shelley and Gary took the launch gear to Head Start and were greeted with 12 eager rocketeers. Their decorated rockets were handed out and we moved to the playground where Kyle and Gary set up the launch stand and explained a few safety rules like, "keep an eye on the rocket so it doesn't land on you". The rockets were fueled, a countdown from five ensued and at zero or blast off, the rocket did to the ooohs and ahhs and other verbal appreciations of the students. Twelve rockets, twelve successful launches and only one caught in a tree!
 We had a lot of fun, (Kyle says, "I forgot how much energy young people have!") and I dare say the Head Start students did too. We have some very good video footage and it is being edited to include student names. We plan to make a copy for each student and the teacher and her helpers. Also, we plan to send a copy to Lummi Nation TV for them to show it, if they want to. The edited video should be on our website by Wednesday. 
Our fund raising has us at 20% of our $5000.00 goal. Albertsons and Yeagers have sponsored two rockets. Dr. Freeman, Northwest Indian College Center for Health, NWIC Enrollment Services, John Frey, Dave Orerio, Gary Brandt, NWIC Science Department, Michelle Gladstone, are among some of the sponsors as well. If you haven't sponsored a rocket, there is still time! 
AND, on April 5th, the day before classes start, the Space Center is planning on launching our big fire breathing rockets. We will have at least three ready and perhaps one or two others. We will be launching somewhere near where the old block house was in a big big field where we will have plenty of space for them to come to ground under parachute. Routes, staging area, parking and other information will be coming soon. We are shooting for around 1:00 pm. So, if you have time, about an hour, come on down and witness the sound and fury of big flame-spewing rockets.
Speaking of fire breathing rockets, our third report is due this Friday for the First Nations Launch. Wish us luck!